Business Source Premier includes Marketline Company Reports. Click Company Profiles in the upper left part of the screen and search for your company. Each report includes History, Key Employees, Major Products and Services, Revenue Analysis, SWOT anaylsis, Top Competitors, and more.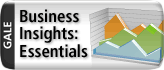 Search by
Company Ticker
symbol or name
, or click
Company Finder
tab and search by
NAICS
or
SIC code
. In addition to basic numbers, look at the ride sidebar for links to
Brands, Company History, Financials, Investment and Market Share reports, Financials, Rankings, SWOT reports, Journal and News articles
, and more.